---
Allegan County Sheriff's Department The Allegan County Sheriff's Office is located at 112 Walnut St., in Allegan, Michigan. See map.

Allegan County telephone number is 269.673.0500. From there you may enter an extension or a name, or after hours you have the option of leaving a message and having your call returned the next business day.

Hours Allegan County Sheriff?s Deputies and Corrections Officers are on duty 24 hours a day, 7 days a week, 365 days a year.

To reach an on-duty officer, contact Allegan County Central Dispatch: 269.673.3899; they will contact the officer to return your call.
To leave a message for an officer that will be received on their next shift worked, call 269.673.0500, and leave a message on the officer's extension.

The Department?s e-mail address is
SHERIFF@allegancounty.org

To report information about a crime anonymously, contact Silent Observer at 1.800.554.3633 or by Email.

In the event of a tornado warning please take shelter in the utility house or the rental cottage basement at the south end of the campground past the office. See facility map.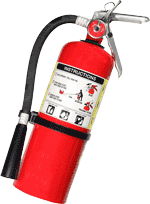 Fire extinguishers like this one are located in the park. Please make your self aware of their location for quick response to fires. See facility map.